What Your Autumn Landscape Maintenance List Should Include?
To keep your garden neat during fall and prepare it for the upcoming winter, you should make a list in order not to forget to do some of the important things. We know some of you will find this type of work as a perfect way to relax, while others will see it as a tiring process that will only pay off in the end.
In case you are not a person that enjoys garden work as much, we suggest you contact our landscaping experts. They will help you with the maintenance of your yard and tell you everything you need to know to keep your garden in great condition. To help you understand what kind of work your landscape requires during fall, we have created a list of things you shouldn't neglect.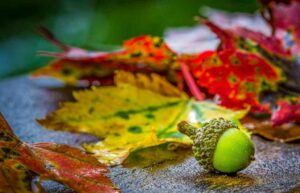 If you don't know where to start cleaning up the foliage is always a good idea. You should make sure to remove any fallen leaves from your lawn and pathways because it can create a slippery surface that may cause you to fall. Still, you will not have to be as meticulous when it comes to backyard borders and corners because a few piles of foliage or tree branches you cut down may attract pollinators and birds over winter. You will find this rewarding during spring when your plants need plenty of pollination.
When it comes to lawn maintenance you will have to take several steps before you let it rest over winter. First, make sure you properly aerate it. You will simply need to poke holes in the ground, and you can do so with rakes or an aerating machine. This way your soil will be less compact and allow your lawn to have plenty of water and oxygen. 
You should also seed sparse spots. This way your lawn will have better disease resistance and overall growth. And, of course, do not forget to fertilize it. Once you mow your lawn for the last time, you should spread around some slow-release fertilizer. That way you can be sure your grass will have a strong beginning in the spring.
The first thing you will need to do when it comes to flowers is to remove summer bulbs. You will do this by gently taking them out of the ground, brushing off the soil and carefully washing them. After that, you will have to let them dry and store them in a cool and dark place where they will rest during winter. 
Also, this is a perfect time to plant flowers that will blossom in the spring. Daffodils and tulips will thrive if you plant them in the autumn. This is because during this period the soil is still warm enough and they will have a satisfying amount of water to help them develop properly.
Trim and Cut Your Shrubs and Trees
Making sure your shrubs are well-trimmed is also an important part of autumn garden care. You should remove all of those lifeless branches from your trees and ensure they will not become a hazard for your home during winter. If your garden contains some smaller specimens, you can protect them with tree guards.  
Prepare Your Water Features For Winter
Your water features will need proper cleaning as well. Remove all of the leaves from your pond and drain your fountain. Thoroughly clean the water pump and store it indoors. After you clean the interior of the fountain, you can use furniture polish (for those made of bronze) or a winter cover to protect it. And if you are not sure how to maintain your water features, you can always contact us and get professional assistance.
Inspect and Repair Garden Features
Finally, do not forget to check for damages to garden features such as a fence, retaining walls, decks and pergolas. You should cover with a layer of protection all of those painted pieces to avoid peeling and chipping and replace wooden parts that may be rotten. This is a type of work where you might need professional help and you can completely rely on our experts to assist you with that. They will be happy to inspect any type of timber construction your garden may incorporate and conduct necessary repairs.
Recent Post
July Gardening Tips
It is quite challenging to maintain your garden during the winter months, but despite that, you have to take proper care of it if you want your garden to be luscious in the spring. All that wind, snow...