Seasonal Garden Maintenance Tips for Autumn
The fall is here and it is time to do some garden work, yet you don't know where to start? When you step into your backyard and look at that foliage and paint peeling from your fence or shed, you might think that ahead of you is tedious work. However, knowing what to do and how to organize all tasks will save you a lot of time.
To help you keep your garden well-groomed even during grey autumn days, we decided to share our tips in the following text.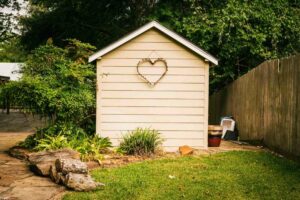 Clean Up the Borders
The best way to start is at the borders. You should clean this area from leaves, dig up annual plants and trim perennials a few centimetres above the ground. Clear the weed by pulling them or digging them out and then add some manure or mulch over it all. The layer of fertilizer shouldn't be thicker than 15 cm. That way you will protect perennial plants over the winter as well. If you need a piece of advice on mulching or trimming, or this seems like something you would rather leave to professionals, our Central Coast landscapers will be happy to help you. 
Clean Decks and Patios
While you are cleaning the borders from leaves, you should tidy up other parts of your landscape as well. Sweep your deck, driveway, patios and pathway regularly. This is especially important if your yard includes broadleaf trees or shrubs. Keep in mind that in combination with wet autumn weather, leaves can create unsafe and slippery surfaces. To ensure that everything is properly clean from dirt and algae, you should also clean everything with a pressure washer. 
Trees and Schrubs
Taking care of your trees and shrubs during fall is also quite important. This is a perfect time to introduce your garden with a new hedge or tree because the ground is still warm enough for the roots to grow before the winter comes. You should by any means avoid trimming deciduous species before they lose all of their leaves. Instead, wait until they enter the dormant phase. Make sure they have enough moisture to endure harsh winter conditions and provide them with extra water. 
Another thing to consider is planting evergreens. The autumn is not a great time for these species to develop and if you plan to plant this type of trees and shrubs you should wait for the spring.
Fence Repairs and Protection
In case you have a wooden fence, there is a good chance that autumn rains will damage it after a while. That is why you should thoroughly inspect it and see if there is anything to repair. Remove and replace parts that are rotting. You shouldn't forget to check out for any loose bolts, as well.
No matter if it is made out of wood, iron or aluminium, your fence is prone to water damage. Because of that, you should protect it with waterproofing paint or powder. You should keep an eye on the rust as well and do all you can to prevent it.
Autumn Lawn Care
And, of course, there is a lawn. Since it covers the biggest surface of your yard, you will have to treat it with special attention. Once again start with cleaning all of the leaves, and make sure you remove every one of them before mowing.
This time is perfect for seeding. Cold temperatures and rains will encourage growth and make the lawn easier to repair. Pull out the darnel and conduct aeration to loosen soil in the high traffic areas. 
We know that lawn care can be overwhelming at the times, which is why you can count on our professional services. Our specialists will be there to assist you with mowing, as well as a complete landscaping maintenance service to prepare your garden for colder weather.
Recent Post
July Gardening Tips
It is quite challenging to maintain your garden during the winter months, but despite that, you have to take proper care of it if you want your garden to be luscious in the spring. All that wind, snow...