Make Your Airbnb Property the Place to Be this Fall With Professional Landscaping Service
Fall can be a great season for all of you who own an Airbnb property with a yard. This is a time of the year when all of those bright and warm colours come out, and every garden becomes an almost magical space. So, in case you are thinking about how to attract new guests, one of the ways to achieve that is by investing in your landscape.
However, this doesn't mean you will have to remodel your entire outdoor space. The solution can be much simpler. Of course, if you are up for a complete Airbnb garden redesign, our landscapers will be happy to help you with that. And, if that is not the case, below you will find out how a professional landscaper can make your property a perfect place to be in the fall.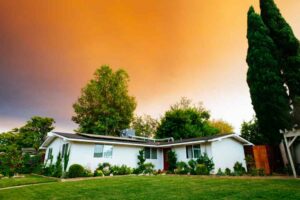 Landscape Style 
The landscape style can determine whether visitors will find your Airbnb find welcoming or not. If your yard is not in harmony with the rest of the space, you may consider hiring a landscaper to help you with that. Whether you would like to add some details that will transform your outdoors in an oriental or coastal garden, a professional will be able to adjust it to the rest of your property and create a universal place of joy.
Proper Maintenance
If you want to make sure that your garden is in top shape and ready to welcome your autumn guests, a good idea is to book for regular maintenance. The landscapers will not only mow your lawn and clean leaves, but they will also detect other things that need to be done, like deck inspection, tree cutting or shrub shaping. It is a sure way to make your yard look amazing even on a rainy autumn day.
New Plant Installation
Another great idea for your autumn Airbnb garden is to add some new plants that will make it even more colourful. Vibrant flowers and shrubs will provide your visitors with a unique visual experience, and a landscaper can help you choose specimens that will be a perfect fit for your space.
The professional will come to your property with a catalogue of available plants and point out those that will compliment your garden. You can have chrysanthemum planted around your pathways, purple fountain grass surrounding your water features or a myrtle tree in front of the bedroom window. And, whatever choice you make, you can count on our landscapers to provide you with the best plant installation service.
Various Garden Features
In case your Airbnb yard is a simple green space, you may consider adding some features like a fountain, fire pit or a deck. To install any of these items, you will need help from a professional landscaper, but you can be sure it is an investment that will pay off. 
Many romantic souls like sitting outside by the fire during chilly autumn evenings. And it can be something that your guests might enjoy as well. Whether you install a fire pit or eye-suiting pond, you can be sure they will appreciate your attention to details, and you will most certainly get some good reviews.
Consider Creating Sensory Garden
Though this will be a more serious endeavour, a sensory garden may be a perfect solution for your Airbnb, especially if you have a larger backyard. For instance, you can make a plan several months in advance and add to your garden apple trees and other plants that bear fruit in the fall or redesign a part of the yard for meditation. 
Sensory gardens are perfect for guests who are staying at your place with children. They will enjoy exploring and learning about nature, and your Airbnb business will flourish not only during fall but throughout other seasons as well. 
In case you are already looking for someone who will transform your yard into a sensory garden or you would like to learn more about how you can make your Airbnb attractive for new visitors, we suggest you contact our landscaping specialists. They will provide you with precise solutions and expert advice.
Recent Post
July Gardening Tips
It is quite challenging to maintain your garden during the winter months, but despite that, you have to take proper care of it if you want your garden to be luscious in the spring. All that wind, snow...