Fall and Winter Care for Your Garden Water Features
Water features can significantly change the looks of your garden. Just a small pond or some elegant fountain can turn your yard into a landscape from a fairytale. However, you will need to take good care of them to make them beautiful throughout the seasons.
Those of you who recently added these features to your garden will probably have a lot of questions about their maintenance, especially during fall and winter. To help you find the answers we've decided to make a list of chores that need to be completed to keep your fountains and ponds in great shape during cold periods of the year.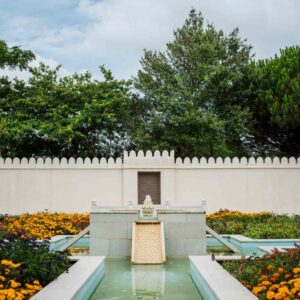 Clean Everything
Soon after the fall starts you will have fallen leaves all around, and it is no wonder they might and up in your water features as well. Although there are some parts of the garden, such as borders, where it is beneficial to leave some foliage to feed the soil, you will have to remove it from your pond, fountain and others. And, when the time comes for winter preparations, you will have to drain them out and remove algae, dead plants and debris. That way you will avoid potential clogging and damages or malfunctions.
Plants and Fish Care
Aquatic plants are an important element of every pond. To make sure they last long and look good, you have to take good care of them. If you have some specimens that are not resistant to harsh winter weather, you should move them indoors or replace them with some more endurable sorts. The only thing they will need is to add some compost in the fall.
In case you have a wonderful little pond filled with koi catfish or any other sort of fish, you will want to make sure that it doesn't freeze over. So, if you aren't so lucky to live in a tropical climate, you should make sure you have a winter cover for your water features. Since some fishes cannot adapt to colder weather, you will have to be careful about the choice you make there. Thus, make sure you get the specimens that are right to your climate. 
You should keep in mind that fish metabolism slows down during cold periods and switch to some low-protein food. Also, feed them less often than you would during spring and summer.
Protect Fountain from Freezing
As mentioned earlier, you should protect your pond from freezing during winter. The same is true when it comes to fountains. After you drain and thoroughly clean it, you should protect it with a customised cover. Just make sure they are UV stabilized and waterproofed. In case you have a fountain made of copper or some other metal, you can also use furniture polish or car wax. Keep in mind that water mustn't get in any part of the fountain during this period, because it could cause serious damage once it freezes.
Remove the Pump
Do not forget to take care of the water pump as well. You should remove it and keep it indoors until the time comes to use it again. This is also a part of the fountain that should not freeze by any means. If you allow this to happen, the frost will make it crack, which will further result in corrosion of electrical workings, which can cause a hazard.
The autumn and winter are resting periods for your garden, and this applies to water features too. Once they are carefully cleaned and protected, you shouldn't put them to work until spring. That way they will last longer. And, in case you would like to learn more about their installation and maintenance, our landscapers are looking forward to getting in touch with you.
Recent Post
July Gardening Tips
It is quite challenging to maintain your garden during the winter months, but despite that, you have to take proper care of it if you want your garden to be luscious in the spring. All that wind, snow...