Benefits of Sensory Gardens
Over the last couple of years, sensory gardens became popular in schools and care homes. However, many people are still wondering what they are and what their purpose is.
Simply put, these types of gardens are areas that provide sensory experiences for their visitors. They are a source for a variety of uses, such as recreation and education. If you are considering transforming one part of your landscape into a sensory garden, we are at your disposal. We are proud to offer designing and construction services for these types of spaces. Now, sensory gardens are beneficial in various ways. In the following text, we will do our best to introduce you to their advantages.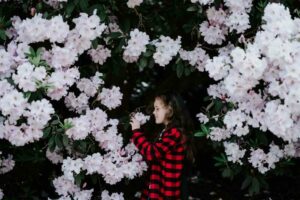 Excellent Way to Reconnect With Nature
Nowadays, it seems like some of us have lost the touch with nature and we are looking for a way to reconnect. A sensory garden is a great way to do that. These places include various sorts of plants and different features to stimulate us physically and mentally, but they also provide a means to educate ourselves and our children. Many schoolers and preschoolers will enjoy learning about various specimens of fruits and flowers as well as how to take care of them.
They Stimulate Various Senses
Sensory gardens are a perfect place to awake all of the senses. You can focus on one sensation or all of them. They include visual stimulus in a form of colourful flowers, gravels and stone or wooden features. The landscapers usually place these amenities to either create a strong contrast or to soften the view. To stimulate touch, the sensory garden can incorporate plants with different shapes of leaves. You can also taste different sorts of fruits and smell aroma plants. And, listening to the wind going through tree branches will affect your sense of sound.
Sensory Gardens are Suitable for Everyone
Having in mind how these gardens have multiple purposes, they are suitable for a wide range of users. Institutions like homes for persons with disabilities often use sensory gardens. This is one of the ways they help patients experience different sensations without feeling overwhelmed by them.
For instance, many psychologists recommend sensory gardens for children with autism. Persons with dementia feel calmer and stimulated in these surroundings, as well. Since people with sensory processing disorders are likely to have extreme reactions to sensory stimulation, sensory gardens can be therapeutic for them. This can be a gentle way to stimulate them if they are sensory under-reactive or dull their hypersensitivity.
Besides that, sensory gardens are a great way to encourage school and preschool children to explore senses and learn more about them. Additionally, since they are designed to make visitors feel calm they are suitable for anyone who wants to relax.
They Encourage Physical Activity
Another benefit of sensory gardens is that they stimulate physical activity as well. Taking a walk or doing your morning exercise will be more pleasant in space such as these. Even activities such as gardening will have a positive effect on your health.
Also, alongside the pool or gym, it will be a great place for physical therapy. Those with severe injuries or disabilities will be able to improve their muscle strength and cardio-respiratory fitness in a calming atmosphere.
Perfect Place for Meditation
As mentioned, sensory gardens can be good places for relaxation. They enable spiritual and emotional healing through elements like natural sounds, water features and pleasant smells of fruits and flowers. And, this is not only a good way to release stress, but also to improve general health.
Many of our clients use sensory gardens as a place for meditation and silent contemplation. In case you want to learn more about their design and the features they include, feel free to contact the leading Central Coast landscapers.
Recent Post
July Gardening Tips
It is quite challenging to maintain your garden during the winter months, but despite that, you have to take proper care of it if you want your garden to be luscious in the spring. All that wind, snow...