5 Plants That Will Add Colour to Your Autumn Garden
Autumn is here and everything is vibrating with colours! If you have a home with a garden, now is a perfect time to make the most of it. After you finish with all of those tiring maintenance chores it is time to have some fun and add some beautifully coloured shrubs and flowers to your yard.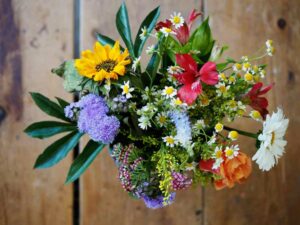 The choice of plants that can really brighten up your landscape is almost limitless. However, you should always consider which of them will be the best fit for a certain space and climate. Here are the top five plants that can really change the appearance of your outdoor space:
1. Salvias
Salvias are some of the most beautiful autumn plants. Once their season comes, they will show their intensely coloured flowers and you will not be able to turn your eyes away from them. 
These plants come in numerous varieties, and each of them will be a great choice for any garden since they flower for a long period. Besides that, these plants are easy to maintain. You will have to water them for six weeks when you plant them, and then leave everything to autumn rains. Flowers will last until winter. You can also plant salvias in the late fall, just make sure they are in a spot with a lot of sunlight. 
Additionally, you will be able to combine different colours shapes and sizes. For instance, Mexican sage will grow up to one meter and you can combine it with other small-leaved salvias. They will be great on borders and for low hedges.
2. Dahlias 
No autumn garden can be complete without this beautiful plant. It flowers from mid-summer throughout the entire autumn. They grow from tubers that you have to set underground in the spring to make them blossom in the fall. Keep in mind you will have to mulch and water them regularly. Also, you should secure them with garden stakes because they will collapse without support. 
Take good care of dahlias and they will reward you with amazing flowers. You can expect a wide range of shapes and colours. Just make sure to combine shades that compliment your garden.
3. Camellia
This wonderful shrub is perfect for cottage gardens, but it can also fit in great with other landscaping styles. It can grow up to 2 meters, so it is a great choice for borders.
Its soft flowers make it some of the most attractive plant specimens and thanks to its wide range of colours, you will be able to combine it in any way you like. This shrub likes a lot of sun and water, but it is easy to maintain otherwise. All you will have to do is trim it from time to time and enjoy its beauty.
4. Purple-Leaf Sand Cherry
Another amazing shrub you should include in your garden is purple-leaf sand cherry. With its unusually coloured foliage, this is one of the most attractive landscaping plants, especially for commercial spaces. Still, it doesn't mean you shouldn't have it in your backyard as well. The great thing about it is that leaves are changing colours throughout every season, so you can expect them to be greenish-bronze in the autumn. This might not be a great choice if you are looking for long-lasting plants because their lifespan is up to 15 years, still, its beauty is worth the investment.
5. Maple
To finish our list, we have selected one of the most attractive trees you may have in your garden. There are numerous sorts of maples, and each of them is a great choice for all of you who enjoy bright colours in your autumn garden. Whether you plant sugar maple or any other specimen, you can be sure your yard will turn red as soon as the summer sun starts fading away. Like most other trees, maple is easy to maintain. It will take only regular mulching and watering to make it grow big and strong. 
In case you would like to add more colours to your garden and you need someone to help you with plant installation, our landscapers stand at your disposal. Get in touch with us, and together you can create the magical autumn garden you deserve.
Recent Post
July Gardening Tips
It is quite challenging to maintain your garden during the winter months, but despite that, you have to take proper care of it if you want your garden to be luscious in the spring. All that wind, snow...